A little bit of history...
The seigneurial domain of Langoiran used to be one of the most prestigious and powerful elements in the duchy of Aquitaine. It was involved in the fights between the kings of France and the kings of England during the 100 years war.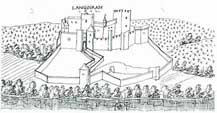 Drawing from the XVIth century (by Du Wiert)
The castle was built up by Bernard d'Escoussan at the end of the XIIIth century. It was passed on to the Albret family in the XVIth century, then to the Montferrands through a marriage.
The lords of Langoiran were important people: Montferrand was the king's chamberlain in the XVth century, and Guillaume d'Affis was President of the Parliament of Bordeaux at the beginning of the XVIIth century and Main Admiral of Galleys under Louis the XIVth.
Unfortunately the Langoiran Castle was destroyed in a rebellion in 1650, during the "Fronde" period. After that, it fell into ruin for centuries...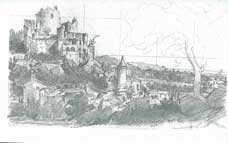 Print from the XIXth century (by Léo Drouyn)
At the end of the XIXth century the castle was labelled as a historical monument. In 1972 Mr and Mrs Bibonne fell in love with the ruined fortress and bought it. With the creation of the association of the Amis du Château de Langoiran, and thanks to the help of many voluntary workers, the restoration of the castle could then begin. This passionate project has been going on ever since...
---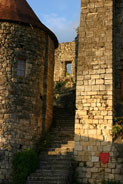 Toward the upper terrace
Opening Times
The Langoiran Castle is open every day from:
April 1st - September 30th : 2pm to 7pm
October 1st- March 31 : 2pm to 5pm
School holidays: 10am to 12am and 2pm to 7pm
Rates
3 €
(children under 6 are free )
---
School groups
Advance booking required
Accompanying adults are free.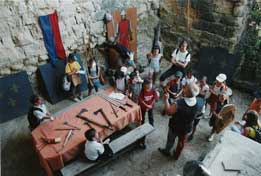 Discovery visit
Groups of > 25 children
3€ per child
Discover the castle through a paper trail, looking for various architectural elements typical of castles. This visit aims to provoke the children's curiosity, test their knowledge and teach them how to use a map.
Visit with workshops
Groups of > 25 children
3.50€ per child
In addition to the paper trail, we propose two workshops for the children:
- Historical approach to medieval musical instruments.
- Presentation of weapons.

Interactive visit
Groups of > 50 children
5€ per child
Here the children take part in a reconstruction of life in medieval times – professionals of historical reconstruction take the group into the different parts of the castle.
For instance, the children can attend (and act in) a knighting ceremony (and act in it), or discover how to use Hast weapons.
The visit is in a lively, festive mood; the children are actors in the life they discover.
---
The Castle in Photos