The association of the Amis du Château also organizes various other kinds of activities such as theatre, concerts...
Have a look at our programme and see what is coming soon !
Discover the castle another way!
Back to the Middle Ages !


Oyez - Oyez !
Professionals and lovers of the medieval times, theatre actors and groups of traditional music enlive the castle along the year.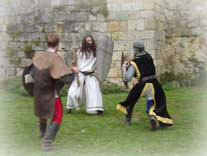 On given dates, various medieval groups make the castle of Langoiran their home, and have you discover how life was in the times of knights and lords.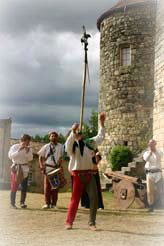 Fights
Medieval receptions
Magic
Juggling
Dances
Medieval Activities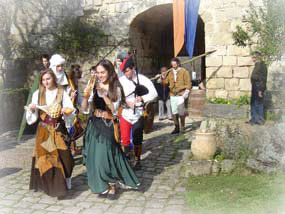 These medieval trips will give you a special insight in the castle, and will undoubtedly be interesting for both the children, and the adults!
Prices :
0-6: free
6-12: 3€
13+: 7€

---
A "Castel" dinner
On various dates throughout the year, our lively diners allow you to discover the castle at nightfall and spend a pleasant time with family or friends in a jovial atmosphere.

For groups only
Advanced booking required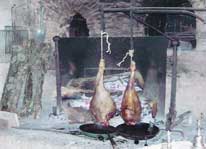 Themed evenings (Ireland, Brittany, Gascogne...)
32€ / pers.
Guided visit of the castle
Fireside dinner
Live music (Jigs, ballads...)
Evenings "Feast and story telling"
32€ / pers.
Guided visit of the castle
Fireside dinner
Medieval show (story telling, magic show, music...)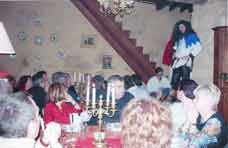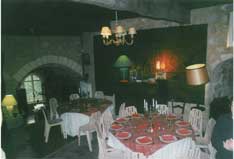 ---
Programme