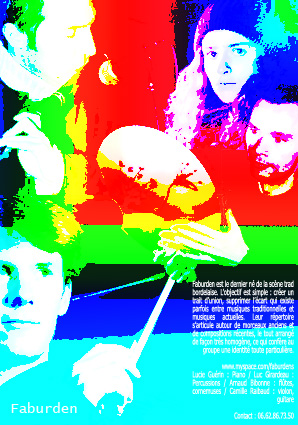 Musical excerpts!
Trad&folk music
FABURDEN, the tradition of the future!
If you can't take advantage of our musical dinners at the castle, don't worry! You can still enjoy the performances of our musicians! If you wish to liven up your evening, whether it is in the castle, in your home or anywhere else, the
FABURDEN
will be pleased to do so!
The group consists of 3 young and passionate artists, all of whom both perfom and compose. Arnaud, Camille and Frédéric bring a new understanding of traditional music. With their flute, violin and guitar, they lovingly wield tradition for the pleasure of the ears.

Enjoy the warmth and liveliness of their jigs and reels, profit from the charm of their irish ballads, and be amazed by the "rondeaux", "congos gascons" and the "bourre" from the centre of France.
For more information, contact Arnaud Bibonne on (+33)662 867 350